Michelle Veenemans' Profile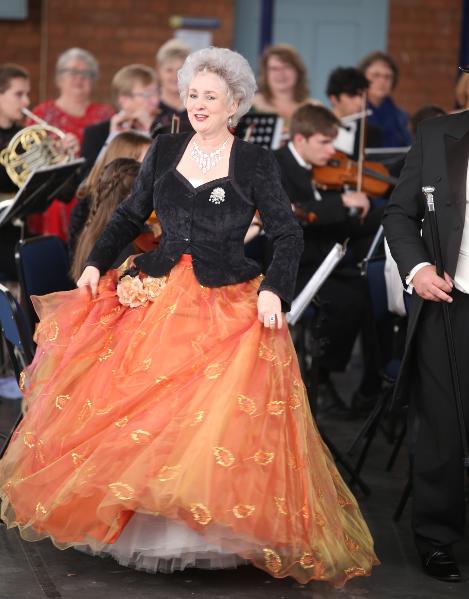 Michelle Veenemans on stage for Opera 2000
South African based dramatic coloratura soprano, Michelle Veenemans, hailed as "The Nightingale of South Africa" by the South African media, regularly appears in numerous recitals, oratorio concerts, opera and operetta concerts and charity gala events collaborating with various South African orchestras, ensembles and accompanists.
Michelle Veenemans's singing has been described as "exhilarating" by Artslink SA, as "one of South Africa's most entertaining sopranos" by the SA Jewish Report, as a "prima donna and 'drama queen' deluxe" by the Cue Newspaper, as "a superb interpreter" by Beeld Newspaper and "having an unusual voice" by the Rapport Newspaper. Singing the role of the Queen of the Night in Namibia, the Algemeine Zeitung writes, "... She interprets the difficult and dramatic coloratura soprano magnificently and creates a spontaneous burst of applause...".
She is an admired exponent of oratorio, opera and operetta arias and established her reputation in singing showpiece arias such as Martern aller Arten from Mozart's Die Entführung aus dem Serial, and Der Hölle Rache kocht in meinem Herzen from Die Zauberflöte, arias from Offenbach's Olympia, Gounod's Juliette, Verdi's Gilda and Bernstein's Cunegonde.
As an operetta singer William Charlton-Perkins writes: "She deploys her creamy soprano's extensive range, from a lusciously developed chest register to gleaming high notes, with a heady combination of abandon and control that constantly enlivens the music at hand".

As a concert artist, Ms Veenemans travels through Southern Africa and her concert career has also taken her to Poland, Germany, the UK and Namibia. In addition, Ms Veenemans has performed for Musica Festiva's concert series Dis Opera, and Organ Fanfare. Her career has seen many highlights. For the internationally famous ballet choreographer, Martin Schönberg, she starred in Ballet Theatre Afrikan's Hooked on Classics. For Classic FM in association with the Chamber Orchestra of South Africa she gave a special Christmas Concert in Johannesburg. She also featured in Classic FM's Operetta Extravaganza with Salon Five in Johannesburg. She sang the role of Die Königin der Nacht in Mozart's opera Die Zauberflöte for Pro Musica Productions at the Roodepoort Theatre, and for Classic Music Productions at the National Theatre of Namibia to great acclaim.
In addition, Ms Veenemans sang numerous operetta concerts for Fanie Smit Musiekproduksies and Radio Sonder Grense (RSG) i.a. at the Oude Libertas Amphitheatre in Stellenbosch and at the ZK Matthews Concert Hall in Pretoria. She gave recitals at the National Arts Festival in Grahams Town. She was invited by Kammersängerin Mimi Coertse to give a Lieder Recital for the University of South Africa's (UNISA) Music Foundation, and starred in the Dance for a Cure concert series at the State Theatre in Pretoria and at the Lyric Theatre in Johannesburg.
Ms Veenemans regularly prforms as soloist with the Akustika Chamber Singers under the direction of Maestro Christo Burger.
She has performed in various solo concerts with Salon Five under the musical direction of Maestro Jacobus Swart.
In addition, she regularly performs with the Concert Master of the Johannesburg Philharmonic Orchestra, Maestro Miroslav Chakaryan in solo concerts and at corporate functions.
She featured in the Burger-Pops concerts at the Artscape Theatre Centre and in the Afri-Klassiek concert at the Grand West Arena in Cape Town. Ms Veenemans had the great honour to perform for the former South African President, Mr Thabo Mbeki.
Ms Veenemans made television broadcast recordings for kykNET's Reik na die Sterre series, including a Christmas Special programme and a Classical programme. Ms Veenemans recorded seven albums; Schenkt man sich Rosen, a collection of operetta arias, Lentelied, a collection of mainly Afrikaans Art Songs, Bravura!, a compilation of opera arias and a recording of Pergolesi's Salve Regina in a-minor. Most recently she recorded her first Big Band CD, Wonderful World of Jazz released in 2018. In 2019, she released her CD Musica Sacra, a compilation of her favourite Oratorio arias. Her second Big Band CD, For Once in My Life, was released in 2020.
Ms Veenemans is frequently asked to adjudicate at various vocal and music competitions and is a regular adjudicator for The National Eisteddfod Academy, Centurion Arts Festival, The Pretoria Eisteddfod, Afrikaanse Kunsvereniging, the Sing It! Choir Competition as well as the Tshwane Youth Arts Festival.
She studied classical vocal performance and ensemble singing with German soprano Anita Nobel, at the Ludwig-van-Beethoven Musikschule in Bonn, Germany from 1993 - 1995. Later she received classical vocal training, focusing on opera, from the South African tenor George Kok for fourteen years from 1996 - 2010.
She holds a Masters Degree in German Literature from the University of Pretoria and a certificate in Digital Music Production from Steinberg.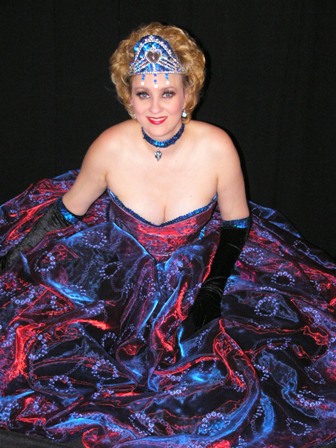 Michelle Veenemans, singing the role of the Queen of the Night, in Namibia.
Costume designed and made by Barbara Veenemans
Hanna Suppa from The Allgemeine Zeitung, Namibia wrote the following regarding Michelle's costume:
"… she wears a flowing dark blue gleaming dress and a shining crown. This is how one imagines the 'Queen of the Night' to be …"